I was sitting in my Caiman one night prepping for a mission and I saw all my gear sitting in the back of the truck and thought to take pictures of my stuff so I could show it off on a different forum, but then I joined this forum and noticed you guys had a medical forum that doesn't seem to see much action.... so I'll post some of my medical gear in an attempt to resuscitate this forum.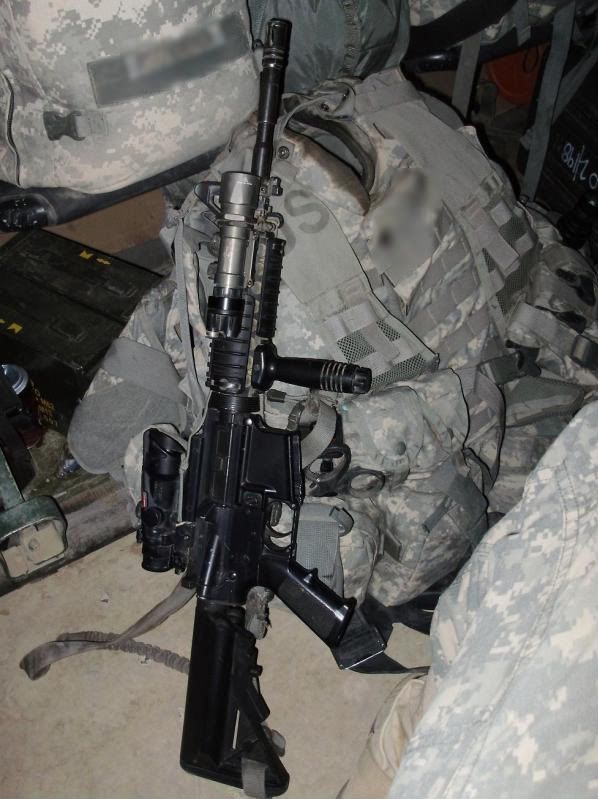 Best battlefield medicine is fire superiority. M4 carbine with TA31F ACOG, M951 Surefight light, LMT SOPMOD Crane stock, and a Spec-Ops Mamba sling (only one they've got in stock at the PX's here it seems).
My IBA with FLC set up for medical duties. With the side-plate holders taking up the best MOLLE real estate I use the MOLLE FLC to carry what I need to. I might be the last guy in Iraq wearing an FLC. I try to have it set up to handle most instances without having to dig into my aid bag. I don't have an IOTV because I wear a weird size to the Army (Medium Regular) they told me last year I'd get it in Kuwait, then I'd get it last December.... I ended up talking my wife into letting me buy one off of e-bay after an IED hit, but I didn't change my address on paypal and it got shipped to my old apartment and is currently being held on to by my old landlord.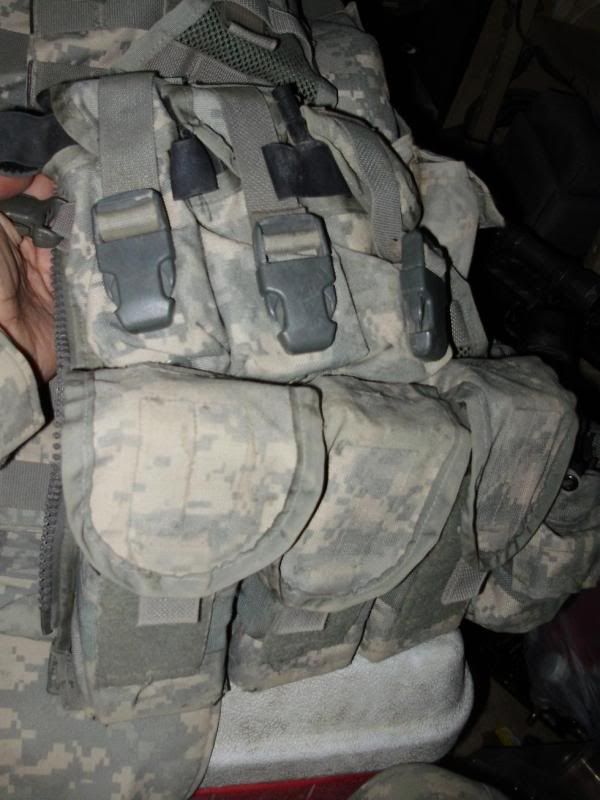 Falling in with TC3, first thing accessible on my vest is a combat load of ammunition (fire superiority baby) 3/1 tracers - I even got two PMAGs from the PX - and CAT tourniquets packed in flash bang pouches.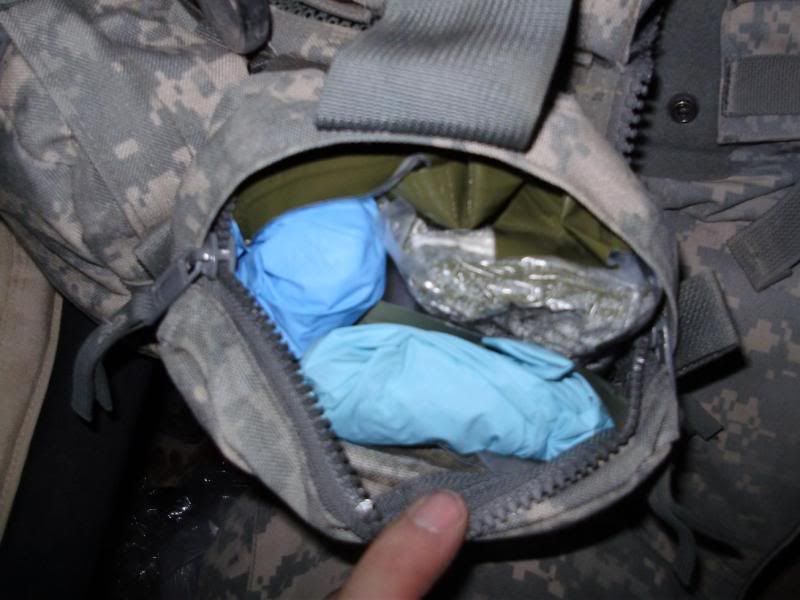 The medical pouch closest to the zipper of the FLC serves as my bleeder pouch. Got 2 rolls of H&H kerlex, 2 rolls of combat gauze, 2 Emergency Trauma Dressings, and 2 saline lock kits, plus gloves. This pouch in conjunction with the CAT tourniquets in the flash bang pouches gives me the ability to deal with and stop severe hemorrhaging in most situations.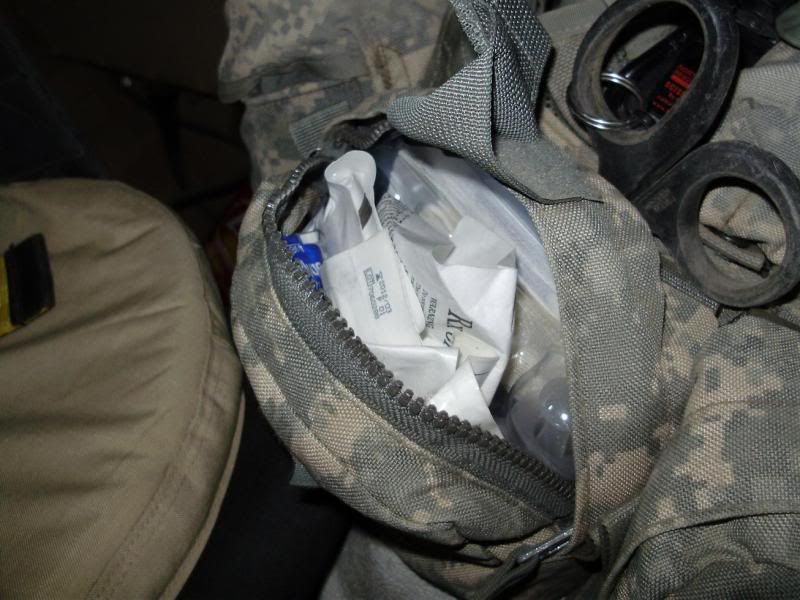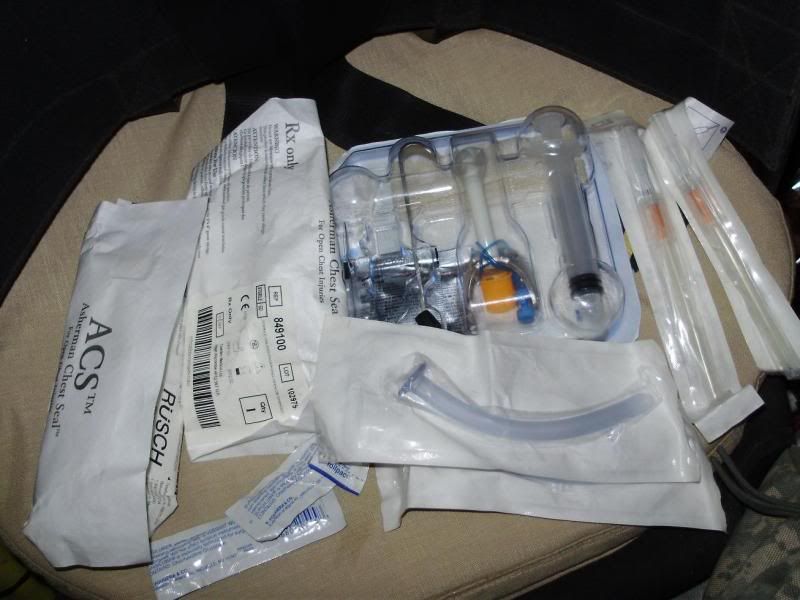 The second pouch serves as my airway/breathing pouch. I've got a Crickit for definitive airways, 2 28fr NPA's w/ surgilube packets, 2 Asherman chest seals, and two 14ga 3.25" catheters. I've been trying to get Hyfin dressings but the ones I ordered from Balad never came. Oh well.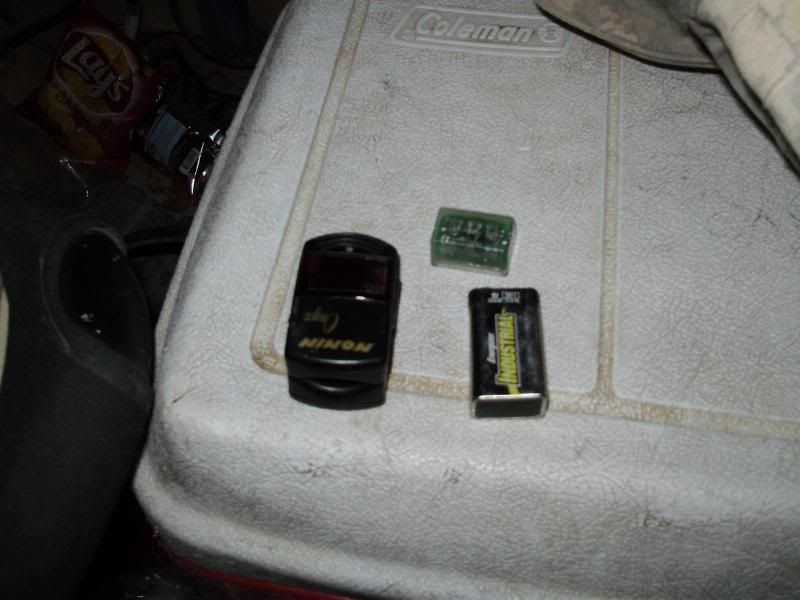 The two grenade pouches over the bleeder and airways pouch serve as tape pouches. One has standard 3" medical tape, the other has a roll of NARP gecko grip. My IFAK is located next to the airway pouch and is pretty standard plus a roll of combat gauze, a 14ga 3.25" needle and ACS. Next to my ammunition is a canteen pouch I use to carry my PVS-7D's. In the little side pouch on that I carry my Onyx 9500 pulse oximeter (invaluable for getting rough vitals in the field. No its not an exact measurement and I don't carry oxygen but it takes vitals for me so I can use my hands to work) and an IR strobe. The Surefire helmet light on my ACH can also serve as an IR strobe.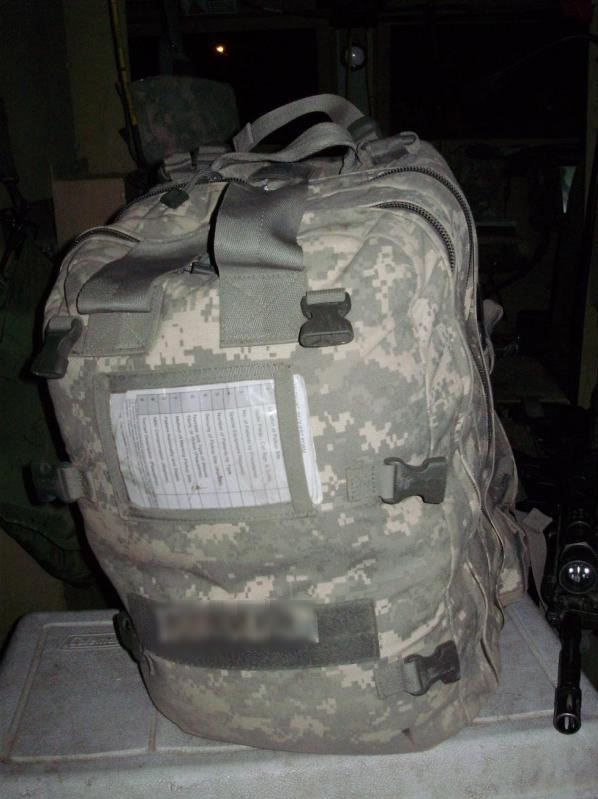 My STOMP 2. Mine is an off-color ACU because Blackhawk sucks. It has a name-tape on it because I couldn't get tactical advantage gear to send me a standard non-reversed IR flag due to ITAR. In the clear little pocket I've got a 9-line card. On the side I've got the staple trauma sheers that never are removed because I have scissors scissor leashed to my vest.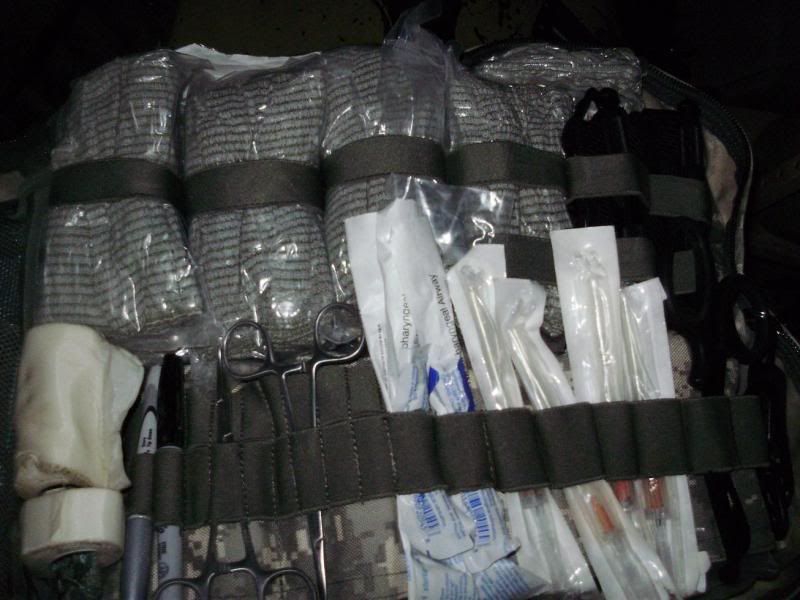 Unzipping the first partition of my aid bag you'll see my "OH SHIT" flap. It's pretty straightforward. 2 SOF-T tourniquets, 8 Emergency Trauma Dressings, 1 abdominal Emergency Trauma Dressing, 8 rolls of H&H Kerlex, 8 rolls of Quickclot Combat Gauze, 4 14ga 3.25" catheters, 2 28fr NPA's with surgilube (I don't take them out of the wrapper because they fit better in the loops still in it), 2 hemostats, a couple of sharpees, and another set of trauma sheers. I made a tape dispenser with 3" and 1" tape out of 550 cord but its starting to get warped so I should probably change it out.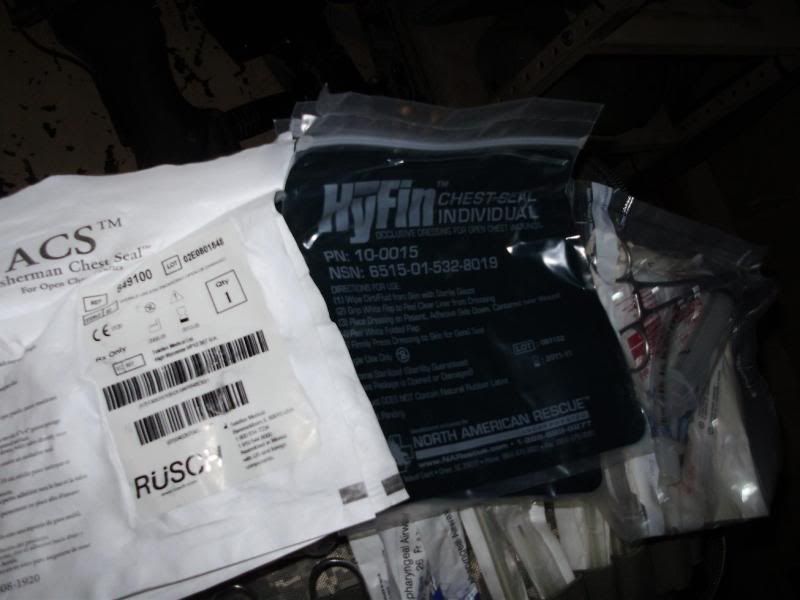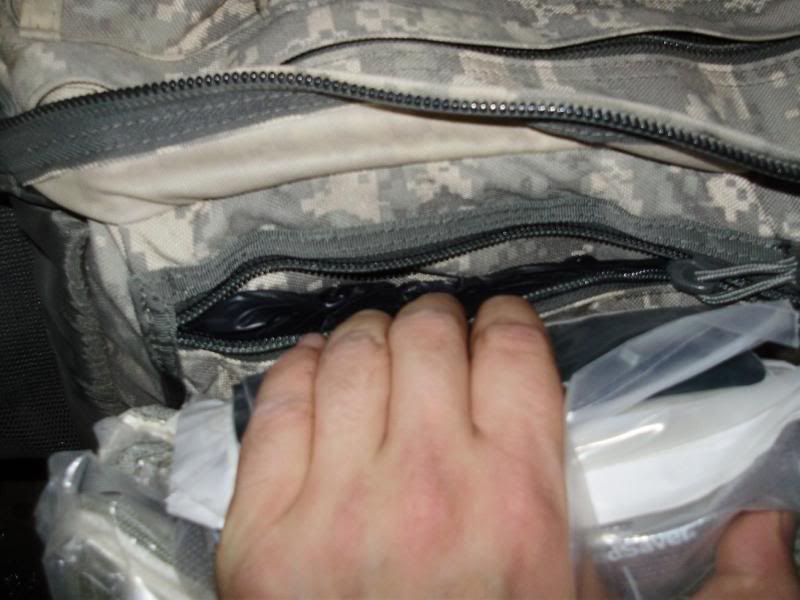 Underneath the ETD's I've got a couple of Asherman chest seals, Hyfin dressings (I managed to steal a couple from a first aid box somewhere along my travels) and a surgical tracheotomy kit. Behind those in the big zipper compartment I keep 10 sets of black talon gloves.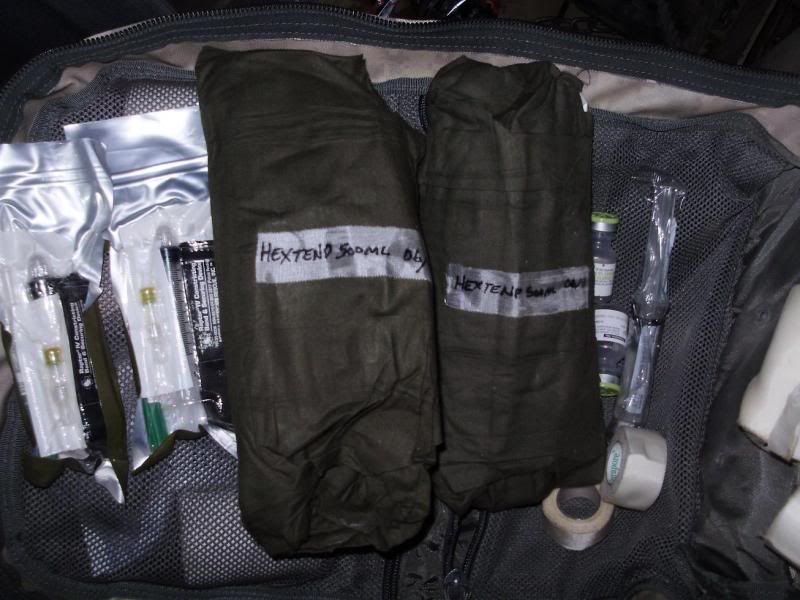 One the top part of my inner flap you've got my ortho section. I've got two large ACE wraps, 2 small ones, a roll of coban tape, 3 cravats, and 3" tape. Ortho really isn't an OH SHIT kind of affair but the ACE wraps can be used as bandages should 8 ETD's not suffice.
Under the ortho section I carry 2 IV sets and 1000ml of Hextend in 2 bags. Tubing and bag is wrapped up in a cravat with type of fluid and exp date written on it. Saline lock kits plus 40ml of saline flush and 2 rolls of 1" tape are also included.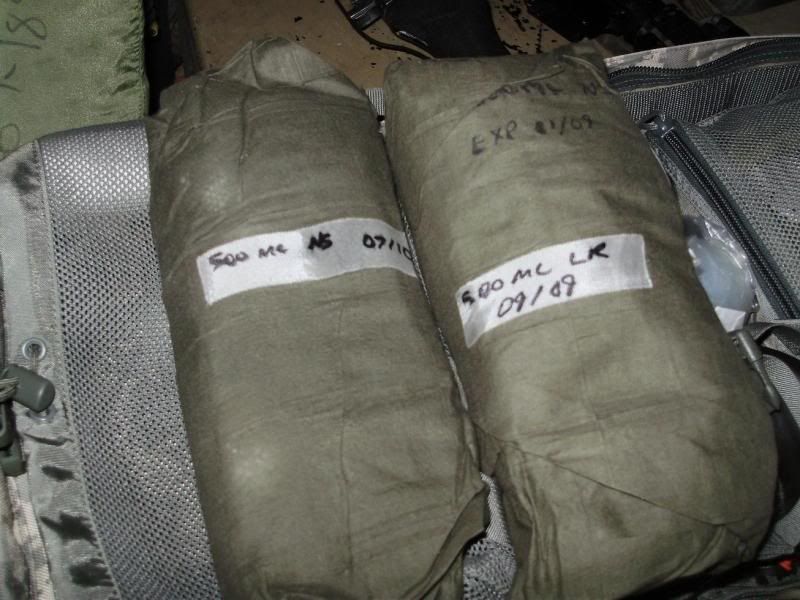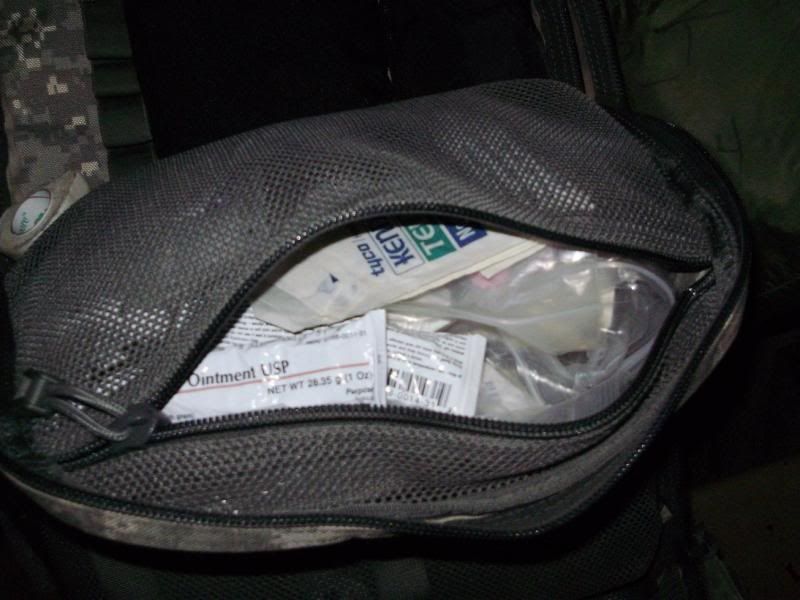 Open the main compartment and you've got a pouch for fluids. Right now I've got one 500ml bag of LR and one of NS. I don't carry more then that for weight and the fact that each gun truck has a WALK and CLS bag with bags of NS in them. Like the Hextend they are wrapped up with the tubing in cravats and marked with type and exp date. They also have Saline lock kits wrapped up with them.
Above the fluid compartment I carry my meds and "gay shit". I also have a glucometer and a Deluxe Corpsman Kit in the pouch with a roll of tape. I've got 2 MS04 carpujects plus naxalone in a Pelican 1020 case with alcohol wipes, needles, syringes, carpuject, everything you need to get doped to the gills. I've also got an epi pen in there. My "gay shit" pouch (nicknamed by a co-worker) covers minor wounds. Standard stuff - band aids, 4x4's, 2x2's, telfa dressings, popsicle sticks, alcohol wipes, bacitracin ointment, steri-strips, some moleskin, 3" tape, 500mg tylenol, benadryl, loperamide. I don't carry a pharmacy because I'm not a doctor and can't prescribe stuff, nor is it something I'm going to be dealing with out on a mission.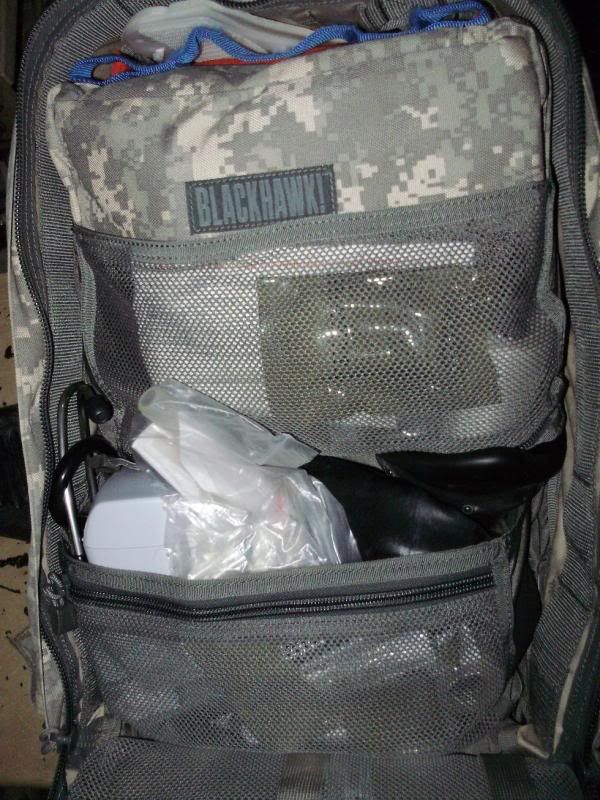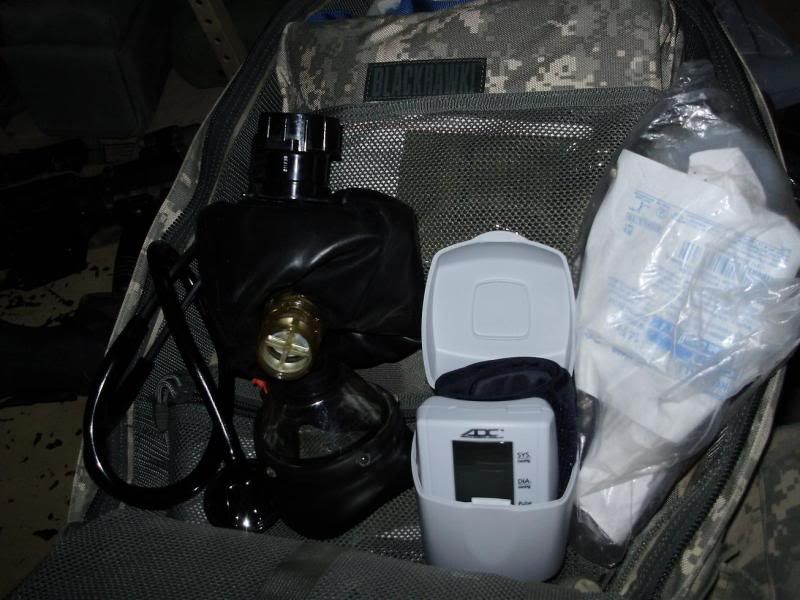 The bottom mesh pocket has six extra saline lock kits and 2 rolls of 3" tape but the picture wouldn't load on photobucket. In fact, half of my pictures kept getting network errors so this is sort of an abridged walkthrough the whole way around but I digress - the top pouch is if I need a little more help getting a line in. I've got a FAST-1 and a BOA band as well as a sharps shuttle and more 3" tape. Behind the lock kits I took out the red meds insert because I use a (much smaller) 1020 case for injections. In its place I have a Littmann Cardiac stethoscope, an electronic BP cuff (not the most accurate but great because even though the Littmann cardiac is a good stethoscope, try getting BP in the back of a combat vehicle), a BVM, and an Suction Easy device.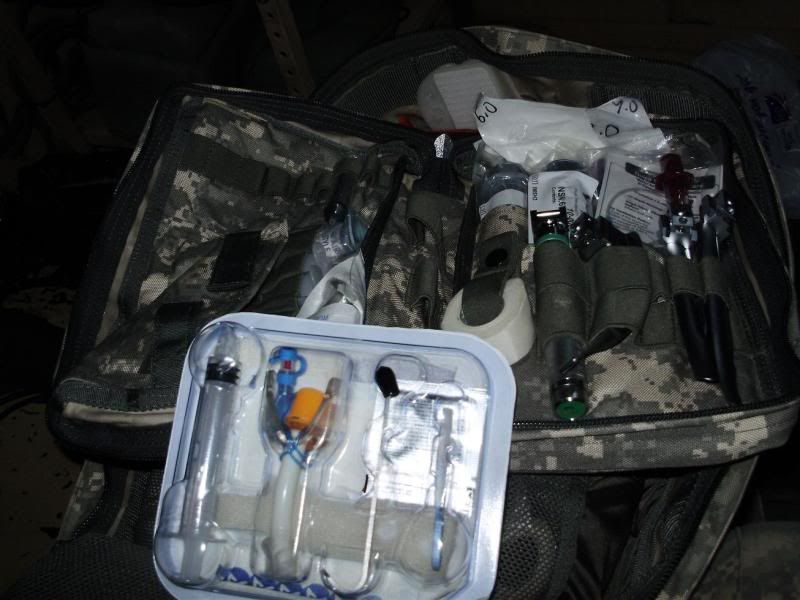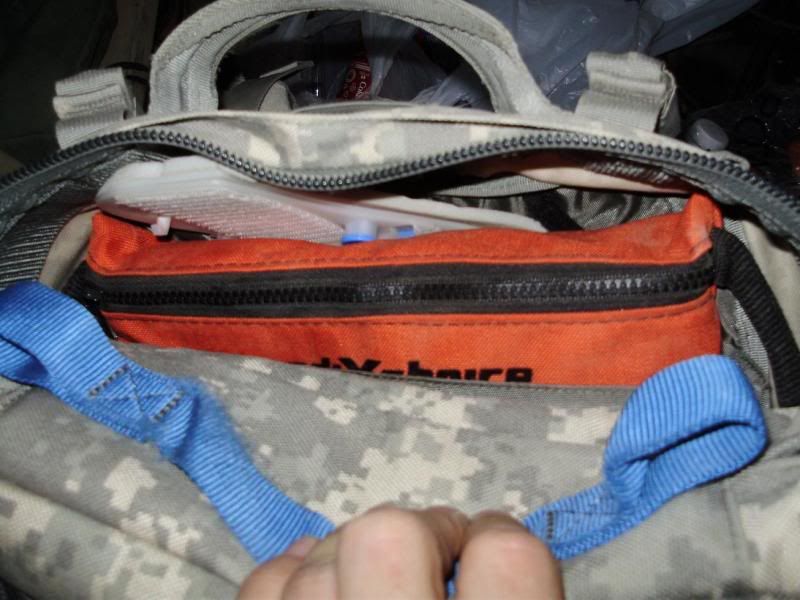 The removable blue airway pouch serves as just that. I've got a laryngoscope kit, a 6.0 and 7.0 ET tube, stylets, a size 4 and 5 King LT set, 2 NPA's w/ lube, OPAs, various syringes to inflate ballons and a crickit. In the area for a hydration pouch I' carry a C-collar and two SAM splints unrolled as well as a nice sized space blanket. I've also got a tactical traction splint which is useful the event of long bone breakage due to a 25 ton truck rolling over. Only wish I had one to put in each truck.
So thats it. I try to keep it simple (stupid) and not overload it with non-essential crap, because non-essential crap gets heavy and I already have a lot to carry every day. I'm not trying to be a portable hospital, just stabilize and keep a soldier going until a bird can come bring him to one.