Hi, here are some pictures of the Finnish Defence Forces.
The main site of the FDF can be found here:
http://www.puolustusvoimat.fi/en/
FDF's YouTube channel:
https://www.youtube.com/user/DefenceForcesFinland
The first three pics have Finnish SF special jaegers from
Erikoisjääkärikomppania
(Special Jaeger Company, of Utti Jaeger Regiment) testing out new weapon systems: Colt M4A1 with free-float rails and a combined infrared sight, night vision device and a range finder. Interestingly enough, the M4A1's receivers have still the "PROPERTY OF U.S. GOVT." stamping on them (you can notice it by comparing the M4A1 in the second picture to some other pic that shows the M4A1):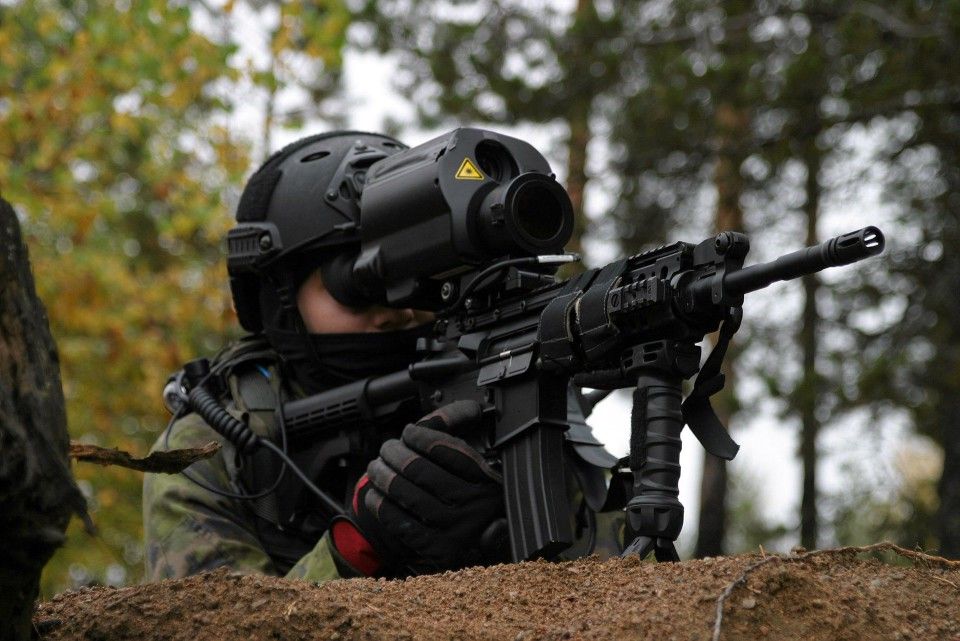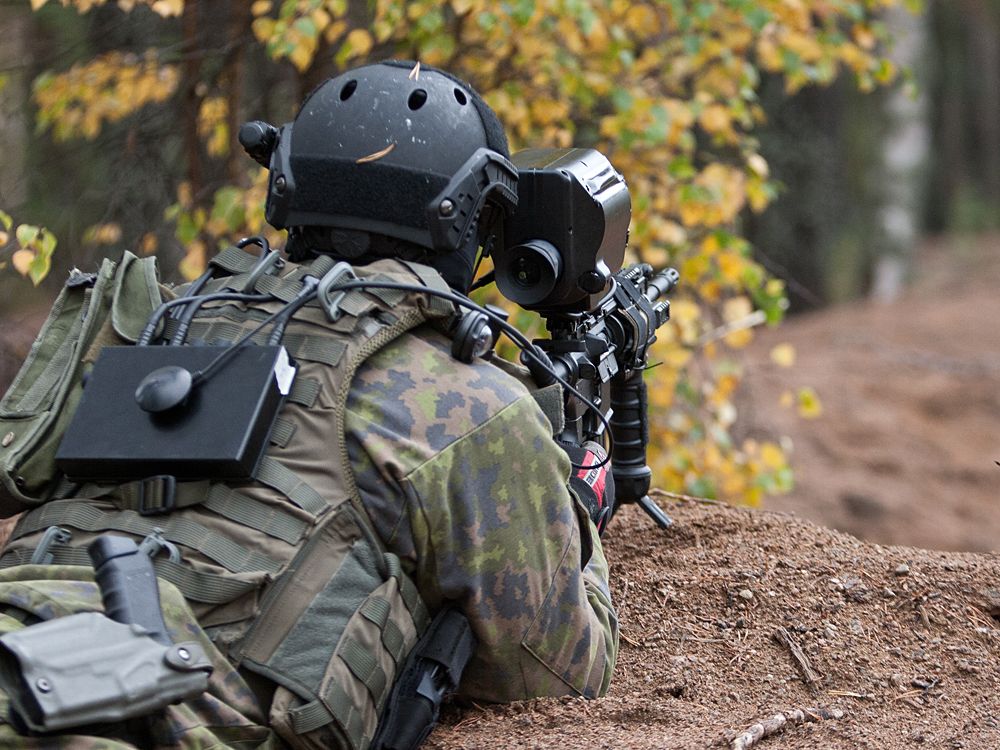 These two pics show some newer winter kit, on display at Finnish Independence day parade last year. The white chestrig seen here (
tiedustelijan liivi
, "recon vest") is RRV-style, but it lacks the ability to insert ballistic plates. Green versions of the vest are made out of mesh fabric while the white ones are just Cordura: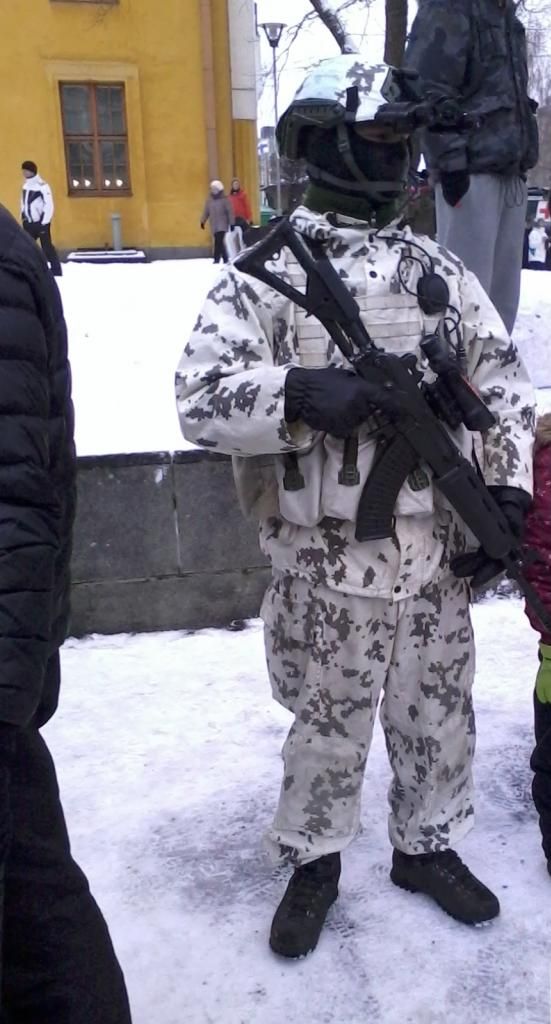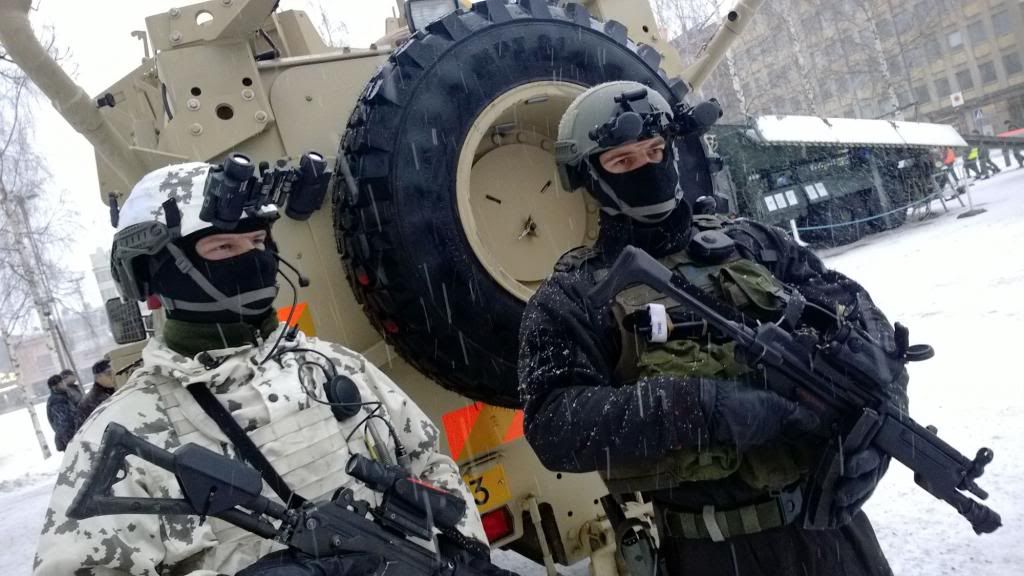 Here is a sniper wearing pre-M05 urban camo (there is a M05 version as well but almost no-one has seen it, the urban camo suits are not common issue):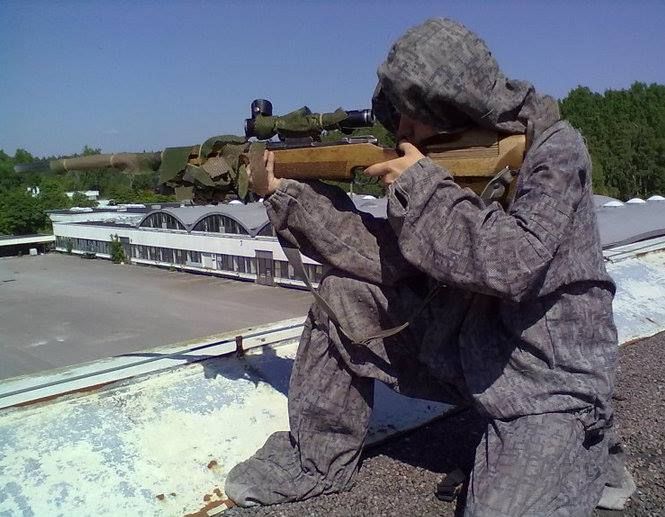 A modernised RK62 - FDF intends to modernise a "large portion" of the existing 350 000 RK62 rifles. The modernisation includes drilling holes for the mount rail, attaching it with either ACOG or Aimpoint on top and swapping the old tubular metal stock with a Magpul telescope stock: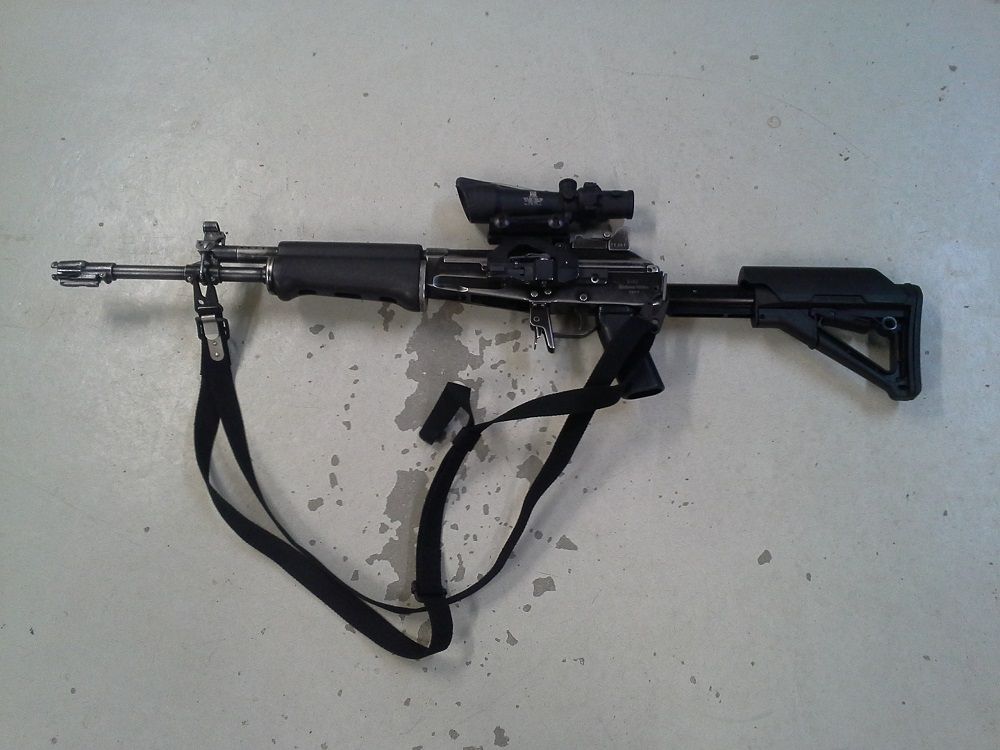 Some recon conscripts: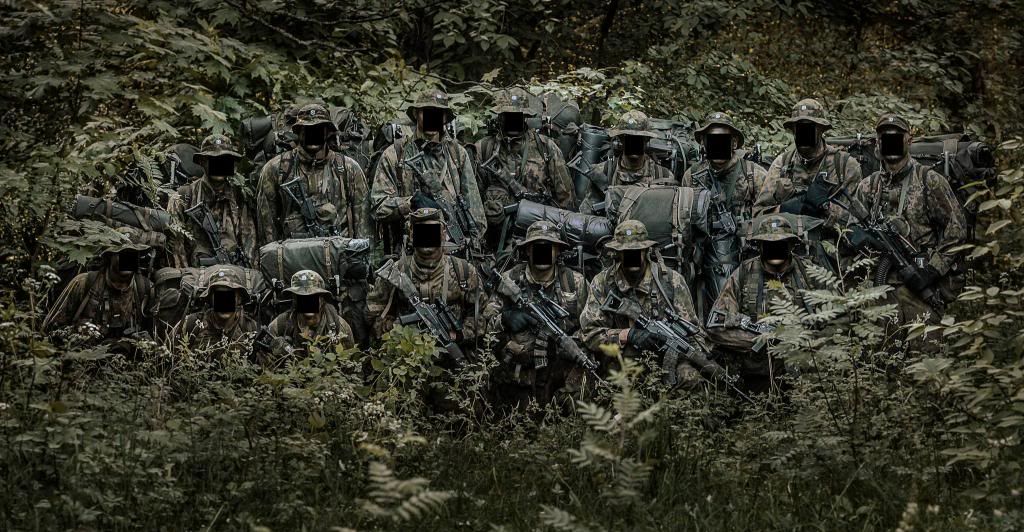 A bunch of soldiers from the Finnish ISAF contingent in Afghanistan: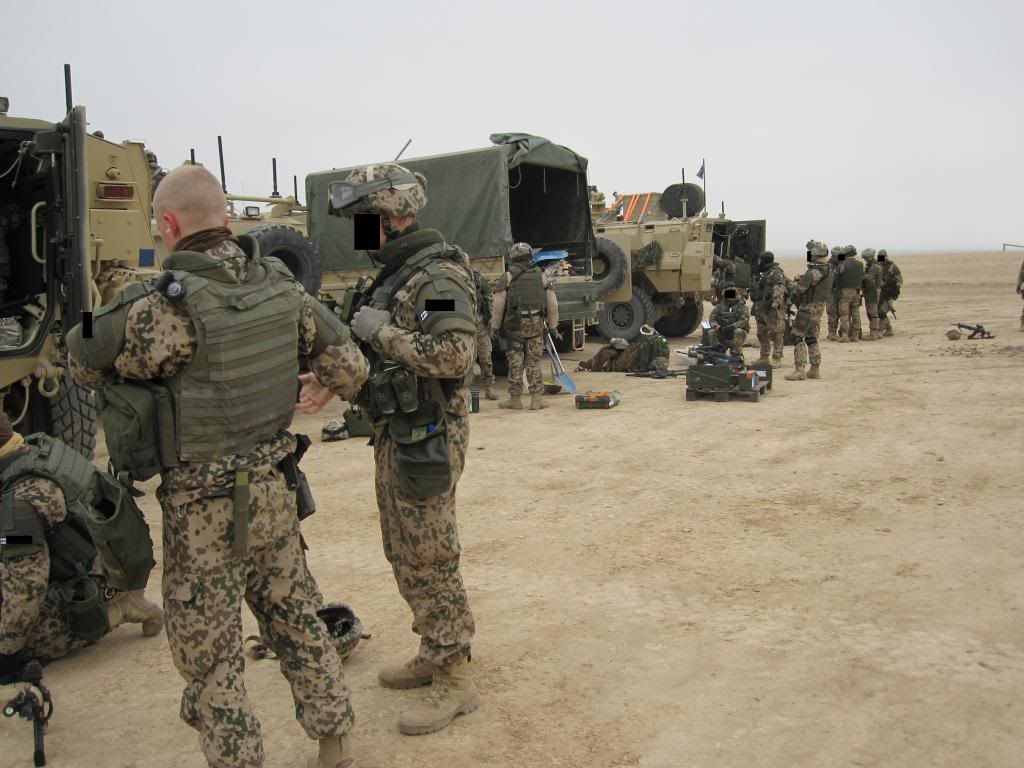 Finnish SF (Special Jaeger Company) at Poland in an excercise. The pic is already in the SF thread, but this shows the new M/13 vest, made for the Special Jaeger Battalion. The vest itself is similar to Crye JPC, the largest cosmetic difference is the small backpack which is attached to the vest itself by a zipper: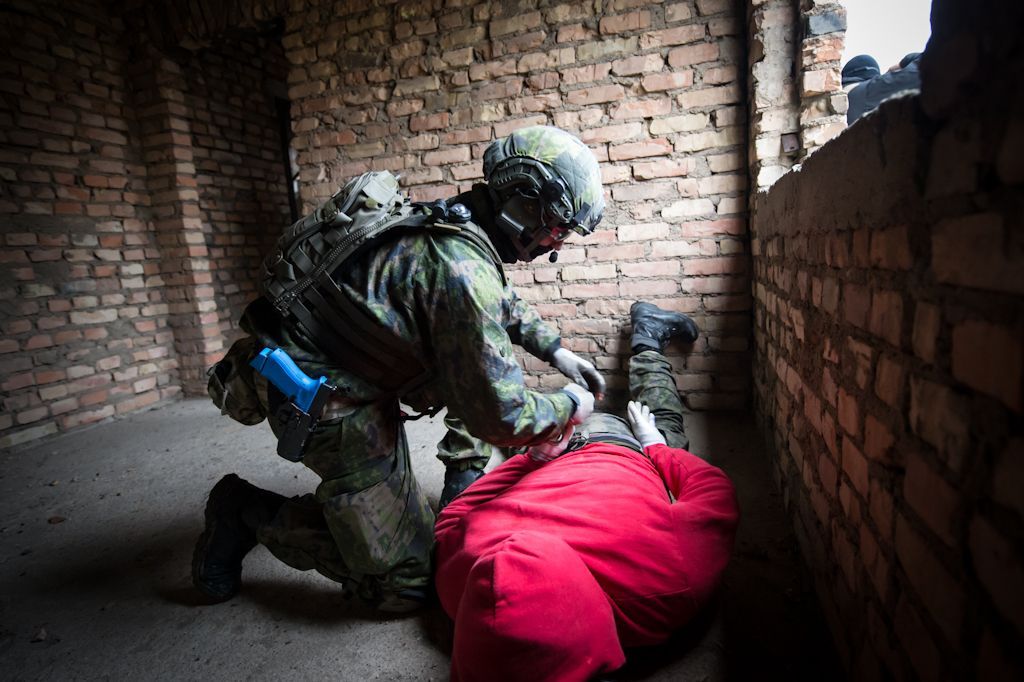 Since the structure of the Finnish SF is not widely known although they appear in many FDF pics, I'll clarify it here. FDF calls all units where you have to specifically apply before conscript service as "special units", but it doesn't mean they are SF.
Conscript SF units:
Army
-
Laskuvarjojääkärikomppania
(
LJK
), 'Airborne/Parachute Jaeger Company' (former Airborne School), trains conscripts for airborne, counter-terrorism and LRRP duties. The conscripts-on-duty act as a readily available counter-terrorism force in peacetime. Together with the professional
Erikoisjääkärikomppania
they form the
Erikoisjääkäripataljoona
, 'Special Jaeger Battalion', at Utti Jaeger Regiment.
Navy
-
Sukeltajakoulu
(
SukK
), 'Combat Diver School'. Trains conscripts for naval SF duties. They are regarded as a part of the Fleet instead of Coastal troops. As with LJK, the divers are a readily available peacetime SF unit.
Border Guard (technically not FDF, but Border Guard conscripts are treated the same way as FDF conscripts)
-
Erikoisrajajääkärikomppania
(
ErikRJK
), 'Special Border Jaeger Company'. Trains conscripts for mainly LRRP duties.
Professional SF units:
Army
-
Erikoisjääkärikomppania
(
ErikJK
), 'Special Jaeger Company'. Consists of paid soldiers who've served a 12-month conscript duty in tasks that lead to an NCO or officer rank and been selected into the SF training. Part of the unit consists of SF trainees and the other part of permanent SF personnel who mainly train new Special and Airborne Jaegers. They are the main peacetime SF unit.
Together with the conscript Airborne Jaegers they form the
Erikoisjääkäripataljoona
, 'Special Jaeger Battalion'.
-
Erikoisoperaatio-osasto
(
EOS
), 'Special Operations Department'. This is a SF unit which is mostly inactive but in time of need it is constructed of mainly active ErikJK soldiers, and possibly some other soldiers whom they happen to need. As a readiness/crisis/war-time unit they would cooperate with the Military Intelligence, SUPO (internal intelligence) and Police Bear team (SWAT). Last time EOS was formed was when Finland partook the EUBG, EU's rapid deployment force in 2011.
Navy:
-
Erikoistoimintaosasto
(
ETO
), 'Special Activities Department'. Consists of professional soldiers who've had their conscript training in the Combat Diver School and who've decided to have a career in the FDF. There is roughly no information about them other than the name of the unit.
Anyone who's got pics of the FDF with at least remote interest, post them here.