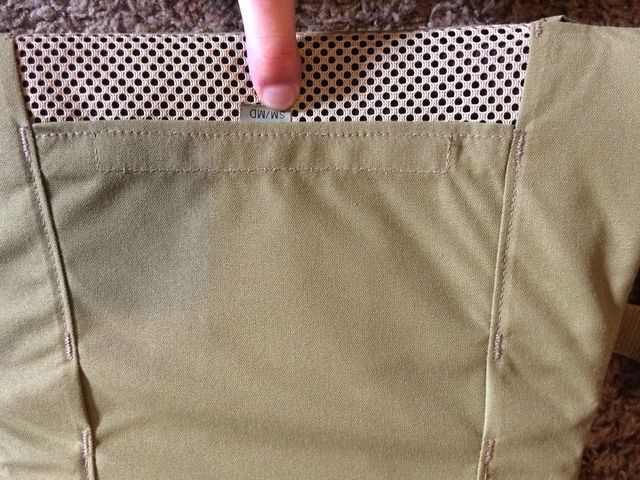 Right above the size label there is a strip of hook and loop sewn between the bottom drain mesh and the center cordura panel. Almost like it has some kind of arrangement to hang groin armor.
Above the Crye watermark label, same 1" x 6" hook and loop port. But below I see the spaced 2" tall x approx. 1.5" wide hook Velcro tabs sewn JPC style into the lower back panel to secure the plate/3A armor access flap.
I don't need to see the LV-MBAV with the armor removed, just a photo of the Velcro flaps undone is fine.
I assume the PITA to remove fit of the backer 3A and the ballistic upgrade plates has to do with the "tailored" fit of the LV-MBAV to the individual sized ballistic upgrade plates, the MBAV cut backers being SM/MED and L/XL sized. The Crye 2015 catalog shows it being sold in individual sizes, S, M, L and XL, but the above photo shows a SM/MED but the other is just an L rig, differing from the catalog offerings.
Also the top photo wide shot, any idea what goes in the slots between the 10mm bartacks? Crye wouldn't take the time to put them there just for the sake of slightly increased production time.
Overall, its an interesting rig, lots of trust of modern, high performance materials, like the acrylic based adhesive hook Velcro stuck to the cummerbund front hypalon pieces; use of hypalon at the shoulder adjustment area like the JPC; and use of softshell stretch fabric in areas under reduced stress, like the JPC-style shoulder strap covers, the hypalon pectoral covers for the stowable chest panel hanger tabs; and radio pocket exterior panel like the JPC.
I forgot, the MarSOC vet I've been talking to said they were given the LV-MBAVs in the SFLCS MJK Khaki color not the darker USMC Coyote Tan 498 color offered in the Crye 2015 catalog. But, they were taken back when his unit got the Crye CPC plate carrier system, I assume, the CPC without the add on exterior ballistic plate bags were deemed sufficient for low profile use. But I would think the loss of the hard plate rifle protection would be a drawback.